Napoleon Stone produces a unique lineup of natural stone fire pits to enhance your outdoor living environment.  Create a beautiful focal point for your outdoor patio with our natural stone outdoor fireplace, and add seasons to your outdoor living with our outdoor stone fireplaces.  Allow your family room to extend to your backyard with our natural stone fire pits.  Adding outdoor fireplaces or outdoor fire pits to your patio or yard is a perfect way to make the most of your outdoor living space and create lasting memories with your family and friends.
All of the natural stone outdoor fireplaces we produce at Napoleon Stone are individually hand crafted at our quarries in SE Michigan and are fully kitted with either a propane or natural gas kit when shipped.  The kit includes tubing, lava rock and a burner.  All you need for set up is access to either a propane tank or a natural gas line for hookup.
We produce three sizes of natural stone outdoor fireplaces:
Small Fire Pit – weighs up to 600 lbs / 10″-18″ tall / up to 3′ in length
Medium Fire Pit – weighs between 600 – 1,200 lbs / 10″-18″ tall / up to 4′ in length
Large Fire Pit – weighs between 1,200 – 2,000 lbs / 10″-18″ tall / up to 5′ in length
To view a printable overview of our natural stone fire pit brochure (click here).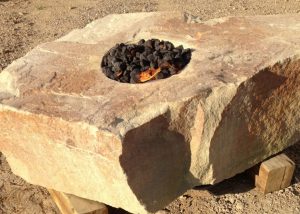 Permalink
Gallery
Natural Stone Outdoor Fireplace